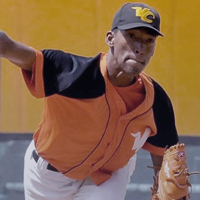 We had a chance to catch up with Blue Jays Assistant Director of Player Development Joe Sclafani just before spring training started to catch up on the latest news in the Toronto farm system. We last talked to Sclafani in early September, prior to the club's Florida Development Camp, a Covid-necessitated replacement for the traditional Instructs camp.
Future Blue Jays: Joe, we just got word that the Jays will be playing their first two homestands in Florida due to Covid and border issues.
Joe Sclafani: We're still working with a goal of being able to play in Toronto, but we've poured lots of resources into our facilities here in Florida, and we're looking forward to being able to get a big group of players down here. With some time, we're hopeful that we'll get more clarity on the border issue.
FBJ: Before we get talking about his season, let's catch up. How was Florida Development Camp?
JS: We were thrilled just in being able to get the programs up and running and getting things off the ground.  For the most part, things went pretty seamlessly.  The guys did a fairly good job of adhering to the protocols. It was good to get some baseball work in, and see some guys we hadn't seen in awhile. A lot of the guys were very diligent about the programs they were on during the layoff, and we did manage to get some competition in –  we were able to get eight games altogether.
FBJ: Were you able to do a top prospects mini camp like you've done in the past?
JS: The camps that we did were kind of a mixed bag. We tried to get our hands on as many guys as we could. We prioritized skill development for the players who needed it, and competition for the guys who needed reps.   We also had a rookie camp, which we typically do for for new acquisitions –  obviously this year was a little different.   We had guys who were just drafted and we paired them with 7 or 8 International prospects.   The main purpose of those camps is acclimation to the work process, and that went really well.
   We did a pitching camp with a lot of our top pitching prospects; it was less focused on throwing and competing, and more on who they are as pictures, who they want to be,  and what can we do to help them.   The discussions that were going on during that camp were tremendous.
   We did a similar count for hitters. We also did a DR instructs except we did it in Florida, we had about 20 to 25 guys in that group.
FBJ: What's the process/timeline for the January 15th going to be in terms of getting them stateside?
JS: We ran a 2 week camp in the DR for about 10 to 12 guys.   Our staff did a great job of keeping everybody safe.  We hope to get them over to our minor league camp in April. 
FBJ: Ok, let's get on to more recent things, like spring training. One of the non-roster invitees who jumped off the list that came out was Yosver Zulueta. We've been anxious to see him in person since he signed and then went underwent Tommy John. There were some good reports about him earlier this month
JS: Zulu is a great guy,  we knew that when we acquired him. he's  living in Tampa and has been in at the complex a lot.   He's a reserved kid, but once you get to know him he's quite a personality.   He's extremely disciplined, works his tail off, and it's been a long rehab road for him, but to see him last fall was awesome –  the ball just jumps out of his hand.   He's a pretty big guy with an electric arm. It was great to see him compete last fall but now it's great to see him get a chance to come to Big League camp and learn from some of our older players.  He has the potential to jump on everybody's radar fairly quickly.  I remember our International Department talking about him when we first signed him, and he was throwing 95-96 (despite a structural issue with his elbow – FBJ) .  The work that he puts in, and how he goes about his business is impressive.  The first couple of bullpens he threw after surgery, he was throwing upper 80s which is amazing considering he was still recovering.
FBJ: Chavez Young had that foot injury in Australia, but he did come back for the playoffs. What's his status?
JS: Chavy had limited resources in the Bahamas due to the shutdown, so we tried to help him as much as we could.    He had an injury that he was rehabbing so that limited his time (last year) but he was a hard worker and great teammate throughout.   So we sent him to Australia for some missed at-bats but unfortunately he wound up turning at second base a little awkwardly, and it was nothing serious but it took him out for a few weeks.  Now he feels 100% and I talked to him just the other day to let him know that he was coming to  Big League camp,  and he was super excited.   We're excited for him to get an opportunity to show what he can do in front of the big league staff too.  We were thrilled to get Chavy and Samad Taylor a chance to get some extra work, and the Canberra people were excellent to work with.
FBJ: With so many catchers on the 40-man, only one – 2019 draftee Phil Clark – NR guy was invited.  There has been talk that maybe a position switch is in the future for Clark, but you're happy with his small body of work to this point?
  We're excited about our group of catchers, and Phil is 100% a part of that group.  He's a true professional about the way he goes about his business, and  he has an infectious personality that guys are drawn to.   It was great to see the work that he put in during the shutdown when he came to the FDL he looked great,  he put on good muscle mass and his arm looked a little bit stronger.   All the things that we had him work on,  you can tell he put in good work there. He's an advanced guy and the opportunity for him to be with our more experienced guys is awesome.  
    He's super advanced with the way he handles pitchers –  they love throwing to him,  and he's very advanced with his game planning,  and he's already shown improvement since we got him.   He's the kind of kid who you have to explain the why of things sometimes because he'll challenge you, but once  you build that trust and he understands he's all in.  We had him play a little bit of first base in the FDL which was really good for him, and he wasn't too bad over there, but I think the priority will be to continue to develop him as a catcher.
FBJ: Leo Jimenez is another guy who received an invite that we wanted to talk about . Reports on him last fall were encouraging, and (MiLB hitting coordinator) Hunter Mense said he hit a personal exit velo high.
JS:  Leo is definitely a crowd-pleaser out there.   Sometimes you forget he's only 19 because he's so advanced,  he's just a mature kid for his age, he works his tail off.  Even with limited resources during the lockdown in Panama he's one of the guys who put on some good size –  he's always had great contact skills and ability to control the zone but he was impacting the baseball better,  and he's going to continue to keep him  improving.   He's an exciting defender at  Shortstop.
FBJ: 28 players is certainly a larger group than usual. Was that in order to  accelerate their development?
JS: Once we got the word from MLB that we can have up to 75 players in camp,  we wanted to have a blend of guys who are not only legit prospects but also some of our younger guys who missed out on opportunities to play last year.   We know for the younger guys who were at the alt site last summer,  it was a very positive experience.    The guys we brought in our High character guys as well so it's a great opportunity for them to get out there and show what they can do but also learn.  For them to see major league players living in colour and the example and work ethic that they show – you can't duplicate that.
FBJ: What is the timeline for schedules, etc for minor league camps?
  JS: MLB is sending out something soon that's encouraging – that's all I can say for now.
  There are definitely some hurdles and challenges that we face and have to figure out, but with 75 guys in camp, we'll have to whittle things down fairly quickly.  But to have the guys (minor league players down here), and for MLB to come out and say we're going to do everything we can to have a minor league season, our group is thrilled – everyone, staff, coaches, are chomping at the bit to get started. So, hopefully everything continues to trend in the right direction.
FBJ: What will be in place at the minor league complex in terms of protocols?
JS: It will be very strict……we've all done our initial testing with tier one (on field) personnel, then tier two (who have some interaction with tier one), followed by tier three, who have no interaction with on field personnel.  Everyone is getting tested two-three times per week, everyone is going about their business trying to adhere to the protocols so they're not the one who screws things up for the group.  
Not that it likely matters for non-snowbird Blue Jays fans, but the minor league complex will be closed to the public once again. Minor league camps for AAA and AA players will open shortly, and players from below those levels will begin camp sometime in early April.
A little more on Zulueta, who has received a fair amount of hype for a guy who has yet to pitch a game in the Blue Jays system. When he signed with the Blue Jays with the Blue Jays in 2019, the club knew that he was headed for Tommy John surgery. A Florida source sent word that he had seen Zulueta in early February, and he was already up to 93-95 with good command and movement on his secondary pitches. There's little doubt that Zulu will be headed to minor league camp once numbers start to get pared down, and his workload will be carefully monitored this season, but there are numerous indicators that he could move quickly through the system.