So, just as the Griffin Conine piece below live comes a bevy of Blue Jays prospect news. I've been working on a piece about my interview with Blue Jays Assistant Player Development Director Joe Sclafani, and I promise to have it up by the weekend….or so.
Anyway, onward and upwards with the news:
-RHP Kendall Williams was the PTBNL in the Ross Stripling deal with the Dodgers. This one came as a bit of a surprise, considering Stripling's struggles of late. The price might have been lower, but given Stripling's track record and remaining years of control, perhaps the price was right.
Williams is a big-bodied guy, a 2nd round pick last June who was thought to be a tough sign, but sign with the Blue Jays he did, and he acquitted himself well in a limited GCL debut in 2019. At 6'6″/190, he has the pro-typical starter's build, with plenty of projection remaining, and given the Dodgers' developmental record, he may one day become more than the back-end of the rotation he originally was forecast to become.
Williams throws a mid-90 fastball and a curve, with feel for all of his secondaries. Command of his pitches and a lack of a putaway pitch at this point were the knocks against him. In a non-pandemic year, he would have started the season with Vancouver in June, and if all went well would be in Lansing by now. With a profile similar to Adam Kloffenstein's, the Blue Jays likely felt they could part with Williams to acquire an arm like Stripling.
-We also learned that OF Alberto Rodriguez will be going to the Mariners as part of the Taijuan Walker deal.
Rodriguez signed for $500K in 2017, and after making his pro debut in the DSL the following year, he took a large step forward as an 18 year old in the GCL in 2019, where he was named the league's 17th best prospect by Baseball America:
Rodriguez is a strong, compact frame and a quick, loose swing, using his hands well at the plate even when he's caught off balance. He does a good job of using the whole field and makes a lot of hard contact, piling up doubles that should turn into home runs once he gets stronger.
Rodriguez is a slightly above average runner, and can play both CF and RF, where he displays good instincts. His swing at the moment is more of a line drive type. There is upside, but he's so far away that the Blue Jays really did not give up a great deal to obtain Walker. He reminds one a bit of Edward Olivares, who was dealt to the Padres (for whom he made his MLB debut this year before being traded to the Royals). His future will be dictated by his ability to tap into his power. The Blue Jays do not have a great depth of OF prospects, but they did sign several players last July (Robet Robertis and Christian Feliz among them) who Toronto probably feels have more upside.
-Patrick Murphy was one of several players added to the taxi squad this week, and you have to wonder if the team is looking at him as a possible sixth or seventh inning guy. Murphy touched 100 last year, and if his repertoire was pared down to that heater and his hammer curve, he could be very hard on hitters in short stints. This is just speculation, of course, but given the route Ryan Borucki, Thomas Hatch, and Sean Reid-Foley have taken, this may make some sense.
-There was some excitement over the promotion of Alejandro Kirk from the alternate site to the taxi squad. And for good reason. Kirk has done nothing but hit since his debut season at Bluefield in 2018, and he was likely slated for AA this year. He gained a huge following for his spring training performance, although much of that was against minor league pitching. Still, reports from Rochester suggested that Kirk has made strides in his receiving and game calling skills, although he still needs more work in those areas. With his elevation to the taxi squad and the offensive struggles of both Danny Jansen and Reese McGuire to date, some were speculating that Kirk might be headed to the big club (even though he wasn't on the 40-man yet). In a call with reporters before yesterday's game, Manager Charlie Montoyo seemed to throw some cold water on that idea: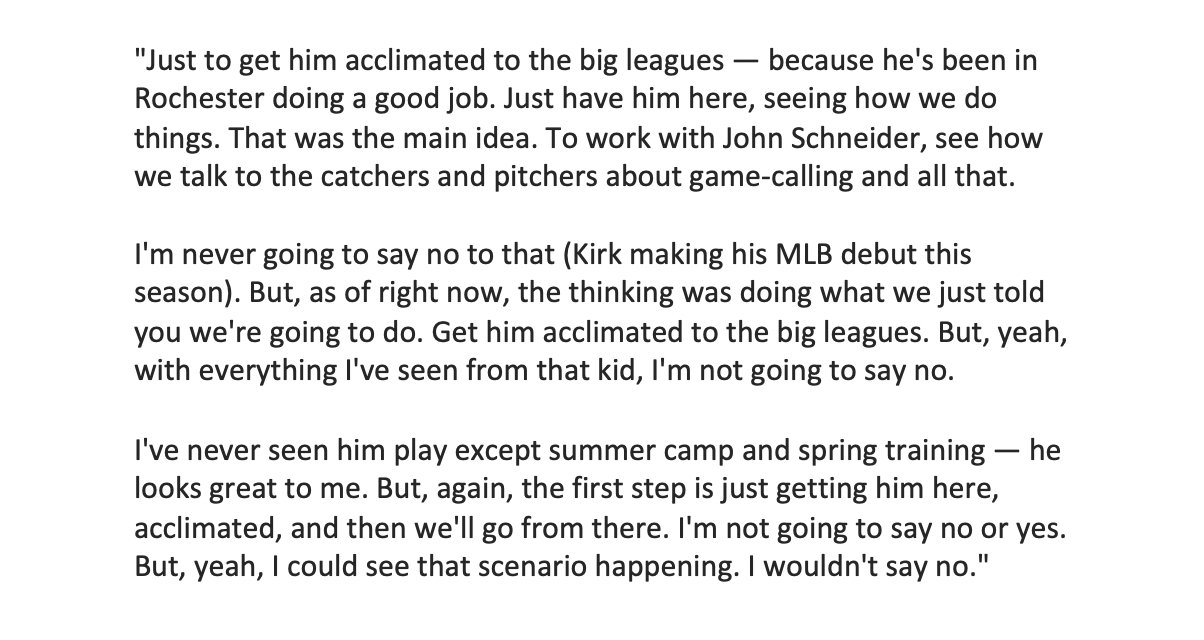 Look, it would be great to see Kirk in a Blue Jays uniform, but throwing a guy who hasn't faced real live pitching since March, hasn't played above High A, and still has some work to do on his game behind the plate into the middle of a playoff race is a huge, huge ask. This pandemic has created some unique opportunities like this – Kirk can learn from McGuire, Jansen, and Schneider to really hep accelerate his development (while the Jays are on the road, at least: taxi squad guys head to the alt site when the Blue Jays are "home" in Buffalo). And you have to remember that it's the game behind the plate for Catchers that determines their value at least as much as their performance at it.
-It was announced yesterday that the MLB draft will now be held during the All Star break. In a way, this probably makes sense, although it also appears to be the last nail in the coffin for short season ball. With an extended time to evaluate players, teams can make more informed decisions, and players – many of whom had their seasons start shortly after Christmas – can have their workloads managed better. MLB can promote the top guys as part of the ASG festivities as well.
-And just this morning came word that MLB teams can go ahead with Instructional League, beginning on September 18th. Teams will have to submit extensive protocols to MLB, but game action can take place. For those teams that allow it, scouts will be permitted to watch the games as well. Who knows if this a wise move, but teams will be very happy to get some of their more promising prospects to camp for further instruction and evaluation.