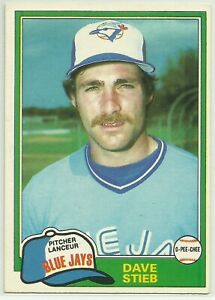 "We didn't like him as a hitter, but he sure as hell opened our eyes when he started pitching"
-Jays VP Bobby Mattick, after scouting Dave Stieb in college
It's not unusual for a light-hitting infielder or outfielder (or even a catcher) to be converted to pitching.
Baseball history is full of players with plus arms whose struggles at the plate (most often in the minors) led their organizations to convince them that their future was on the mound. Hall of Famer Bob Lemon was switched to the mound when he couldn't hit major league pitching – he even played centrefield the day another converted outfielder, Bob Feller, hurled a no-hitter. Trevor Hoffman, Joe Nathan, and Troy Percival are all recent examples of players who found success on the mound after meeting with little success as an everyday player. And with baseball's increased reliance on power arms in the bullpen, teams are not hesitant to encourage strong-armed position players to make the switch. For the Toronto Blue Jays, no turnaround was more dramatic or more rapid than that of Dave Stieb, the winningest pitcher in club history.
Growing up in Southern California, Stieb's parents would not allow him or his brother Steve (who later caught in the Braves organization) to pitch, fearing the wear and tear on their arms. So, Stieb took to the outfield, while his brother picked up the tools of ignorance behind the plate. After high school, Stieb played for San Jose Community College for two years, then followed Steve to Southern Illinois University. In his one and only season with the Salukis, Stieb led the team in hitting, hits, extra base hits, Home Runs, and RBI, and led them to the NCAA's Midwest Regional.
Despite Stieb's hitting heroics, he hadn't garnered a lot of attention from professional scouts prior to the 1978 draft. Blue Jays executives Bobby Mattick and Al LaMacchia (who had over 90 years' experience in OB between them) decided to drop in to catch a Salukis game in Carbondale early one May on the recommendation of scout Don Welke.
And to be blunt, they didn't come away impressed with Stieb the outfielder. Speaking in a May, 1983, Sports Illustrated article, Mattick admitted, "I didn't like his swing."
Both executives were likely checking their watches as the game wore on, thinking about their next stop on their cross-checking tour, when something happened in the 6th inning that changed the course of the Blue Jays' history. With the Salukis' starting pitcher wearing down, Stieb jogged in from the outfield to take over duties on the mound. Mattick and LaMacchia looked at each other in disbelief, and decided to stick around for another inning or so.
This wasn't the first time Stieb had come into a game in relief. Earlier in the season,SIU
pitching coach Mark Newman had watched him throw batting practice, and decided to work with Stieb a little bit more.
According to Head Coach Richard "Itchy" Jones,
"After working with him for a day or two, Mark told me Dave already had a better breaking ball than any of our starters. And he had great velocity. We didn't find out he could pitch until April 1st. Shows how smart we were."
Sports Illustrated, "A Rare Bird: The Natural," by Ron Fimrite, May 16, 1983
Stieb only threw a total of 17 innings for Southern Illinois that spring. Mattick and LaMacchia saw two of them, but that was enough. In June, the Blue Jays selected Stieb in the fifth round of the draft. Mattick says that staying to watch Stieb pitch was one of the smartest things he had ever done (this from a man who once scouted and signed Frank Robinson).
"Stieb knocked our eyes out. He was absolutely overpowering. We didn't like him as a hitter, but he sure as hell opened our eyes when he started pitching."
SI, "A Rare Bird: The Natural"
Stieb, of course, had never pitched at any level prior to his brief stint with the Salukis, and he still envisioned himself as an outfielder first. The Blue Jays assigned him to High Class A Dunedin of the Florida State League after the draft, and he played his first game there on June 29, 1978. Manager Dennis Menke was given instructions to have Stieb take a regular turn in the starting rotation every 5th day. The day after a start, he was to DH, and then could play the outfield on the other days in between starts. Stieb, a fiery and intense competitor, bristled at the idea of pitching at first:
"It was hard for me to fathom why they wanted me to be something I wasn't. I don't think I even knew how to figure out an ERA in those days. I still felt I could make it as a hitter."
SI, "A Rare Bird: The Natural"
The results of a summer spent at Dunedin were impossible to ignore: Stieb the everyday player hit an underwhelming .192, while Stieb the pitcher sported a record of 2-0, with a sparkling 2.08 ERA. Reluctantly, Stieb realized that his path to the big leagues was as a pitcher, and he reported to Instructional League that fall to complete the makeover from the outfield to the mound. Working every day for several weeks with Mattick, Stieb worked on expanding his repertoire of pitches, which at first consisted of a "heavy" fastball that sunk on righthanded hitters, and a slider he had picked up from Coach Newman at Southern Illinois. Mattick worked with him on his control, and taught him a changeup. Recalls Mattick:
"We didn't monkey around with his mechanics at all. He has the same delivery he has today as he had then. He was a natural, one in a million. He had such a desire to excel. He had that good slider. That's not a tough pitch to pick up. It's all in the release, and he had that from the start. It's a funny thing, but most converted infielders and outfielders have good control, especially if they've been used to throwing at a target. Someone who has been a pitcher from High School on up may actually have more problems. It's all in what they call the rhythm. I call it a feel. Dave had that feel."
SI, "A Rare Bird: The Natural"
The next season, Stieb reported to Dunedin again to repeat High A ball, but as a pitcher. His rise was as fast as it was unexpected. He went 5-0, and was promoted to Triple A Syracuse in May, where he went 5-2, with a 2.13 ERA. Stieb was called up to the Major Leagues on June 29th, a year to the day from his minor league debut, and about 14 months since the accidental discovery of his pitching prowess by Mattick and LaMacchia. In his rookie season, Stieb went 8-8, with a respectable 4.31 ERA. In 1981, he became the first Blue Jays pitcher to post a winning record, and appeared in his first All Star Game. Stieb appeared in 6 more All Star Games, starting in 1983 and 84. Stieb was a workhorse, averaging an astounding 275 IP from 1982-85.
And while his hitting days were behind him when he reached the bigs, Stieb had two memorable at bats as a pitcher. The first came in August of 1980, when the Blue Jays finished a game from the night before that was suspended after 15 innings. Stieb became the first Jays pitcher to ever have a plate appearance, and battled Minnesota reliever Albert Williams before flying out to centre. The next came in the 1981 All Star Game, when AL manager Jim Frey had run out of pitchers in a close game. With the AL holding a slim 4-3 lead over the NL heading into the top of the 9th, Frey summoned closer Rollie Fingers to try to hold the lead. Fingers was unable to, as the NL touched him for a pair of runs, giving way to Stieb with one out. Stieb threw the final 1 2/3 innings, and came to bat with one out in the bottom of the 9th. On the mound for the NL was Bruce Sutter, a dominant closer from the late 70s/early 80s who had popularized the split finger fastball. Despite not having picked up a bat in over a year, Stieb acquitted himself well, hitting a line drive down the left field line that just went into the seats foul before striking out (the NL held on to win, 5-4).
Stieb took a pair of no-hitters into the 9th inning on consecutive starts in 1988, only to have the no-hit bids broken up. The following year, he took a perfect game into the 9th, and got the first two outs, only to lose it on a bloop single. He recorded the Jays' first and only no-hitter in 1990. Stieb was a member of the Jays first World Series winner in 1992, but was not an integral part of it, the toll of almost 3000 innings on his arm having added up. He was released by the White Sox the following season after having filed for free agency.
While throwing batting practice as a guest instructor in spring training in 1998, Stieb was encouraged to make a comeback after his nasty slider had returned. Stieb started 12 games in the minors, and had dazzling stats, but had mixed results in his return to the big leagues: 1-2 record in 50 innings, with a 4.83 ERA . He retired for good after that season.
In today's game, with showcase events across the U.S., video databases, and an encyclopedia of metrics on just about every amateur level player on the continent, it's doubtful a player like Stieb would have been ranked so high on many team's draft boards – some might not have had him listed at all. He was a nondescript player playing out of position for an equally nondescript team. That Mattick and LaMacchia were even there to scout was a bit of a fluke; that Stieb even came in to pitch was a huge break for everyone concerned. But in those two innings the pair witnessed, their combined veteran eyes had seen more than enough to think that a relative unknown was worth such a relatively high pick.
Stieb was ranked the 67th top pitcher of all time by baseball-reference.com