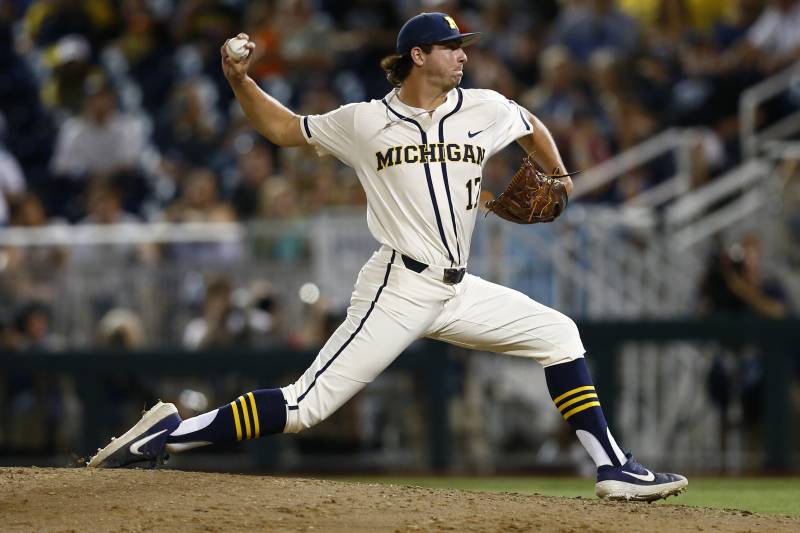 All Ranks, and Players Below can be found in MY BOARD which is updated daily.
On the Rise
SS Nick Gonzales, New Mexico State (no. 15 to no. 4)
After playing SS in the '20 fall and starting at SS in all four games for New Mexico State. Gonzales' Draft Profile is much more glamorous, a double-plus hitter, with above average power – all at a premium position. After a crazy weekend, Gonzales created 14.2 runs with a .727 OBP, and 1.571 SLG. His 13.6 K%, and 27.3 BB% make it all the better. Thanks to Nick, we now have a new addition to the 55 FV Club. Once referred to as the "Big Three", you can now officially change it to the "Big Four".
RHP Max Meyer, Minnesota (no. 31 to no. 17)
Like most 6'0 Pitchers, Meyer was viewed as a reliever-only pro by a lot of people. In June of 2019, I released my first Mock Draft where I had Meyer going in the top-10. He took a tumble because of more players getting attention, which led to him ending up as my no. 31 prospect. In his '20 debut, he threw  5 IP, allowing 2 H, and 1 ER, with 3 BB, 7 SO, 2 HBP, and a 1.80 ERA. Meyer was 97-99, topping out at 100 in the first, and in the fourth, he was 93-95. He showed durability, and continued to do it all with clean mechanics. Max looks like he'll end up going at the beginning of the comp rounds.
OF Heston Kjerstad, Arkansas (no. 64 to no. 43)
Unless Kjerstad puts up Nick Gonzales, or Spencer Torkelson-like numbers, I doubt he gets much higher than this;  why he's so low compared to most is his swing. He's a timing-guy, and timing-guys always scare me. Heston, with J.J Bleday no longer in College Baseball, might be the best LHH at the collegiate level because of his bonkers-numbers. Ignoring my ignorance, Heston is a talented player, and he proved that this week with 4 HR, and 7 H in 12 AB. Players that put up numbers like he has against the competition he's faced don't typically flare out.
RHP Jeff Criswell, Michigan (no. 145 to no. 73)
College Baseball doesn't get much mainstream attention – but when Michigan and Vanderbilt reunited for a CWS rematch, many viewers tuned into MLB Network for the game. Criswell was remarkable. If you look at the box score, you might be unimpressed. He went 6.1 allowing 2 H, 3 ER, with 4 BB to 5 SO, and a 4.26 ERA. Luckily, you don't draft a player because of some fancy stats. Criswell was sitting in the mid-90's against a lineup filled with future professional baseball hitters. Even my no. 2 player in the class, Austin Martin struggled against Criswell – going 0-2. As said by his coach, when he's on – Criswell is a nightmare, flashing a plus-breaker as well as mechanics desired by nearly every organization.
On the Down
LHP Garrett Crochet, Tennessee (no. 13 to no. 26)
A Tennessee journalist announced that Crochet would be out for possibly three weeks. The news came to many people's surprise, with no warning at all. I became a massive fan of Crochet over the summer because of his amazing trackman numbers, and quick delivery.
1B Aaron Sabato, North Carolina (no. 42 to no. 59)
When you're a Right-Handed first-baseman, you have to hit. This weekend, Sabato was a disappointing 1 for 10 with the lone hit being a 2B. He had 4 SO to 3 BB and got on nearly 31% of the time. Better times are ahead for the Sophomore Tar Heel, College Baseball is better when guys like Sabato are mashing.
SS Hayden Cantrelle, Louisiana Lafayette (from no. 51 to 64)
Cantrelle -a breakout candidate of mine – was anything but breaking out this weekend. He was 1 for 11, with a HR, that led to his only run and RBI all weekend. He had 3 SO, with only 1 BB and didn't have any opportunities to show off his plus-speed. 
LHP Jake Eder, Vanderbilt (from no. 68 to no. 79)
For some, Eder was the top Vanderbilt arm in this year's draft crop. After Mason Hickman's performance on day one, and Eder's on Sunday – it look's to be Hickman's for the taking. Eder went 3.1 IP, allowing 4 H, 3 ER, with 3 BB and 3 SO. He now looks like a backend of the second talent who will end up with a small overslot.